Description

Payment and Shipping
ULTON Fev V5 25mm MTL/ DL RTA Rebuildable Tank Atomizer - Silver


Transparent Glass Tank Installed


Need a larger atomizer to fit your box mods? The ULTON Fev v5 fits perfectly with most of box mods and it comes with larger capacity, it differentiate the Fev 4 and Fev 4.5 by dual AFC and single AFC options. With a solid screw, you could easily exchange single AFC for MTL from dual AFC for DL. 3 pairs of AFC screws in different sizes for various combinations of your settings.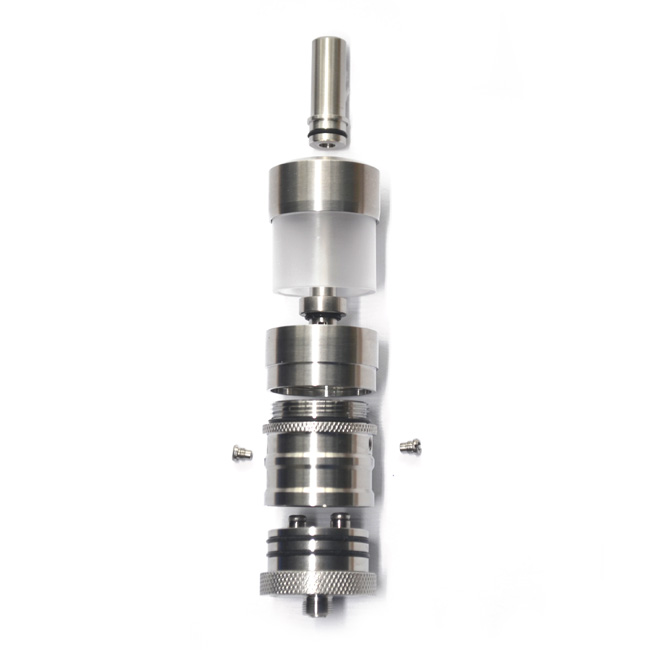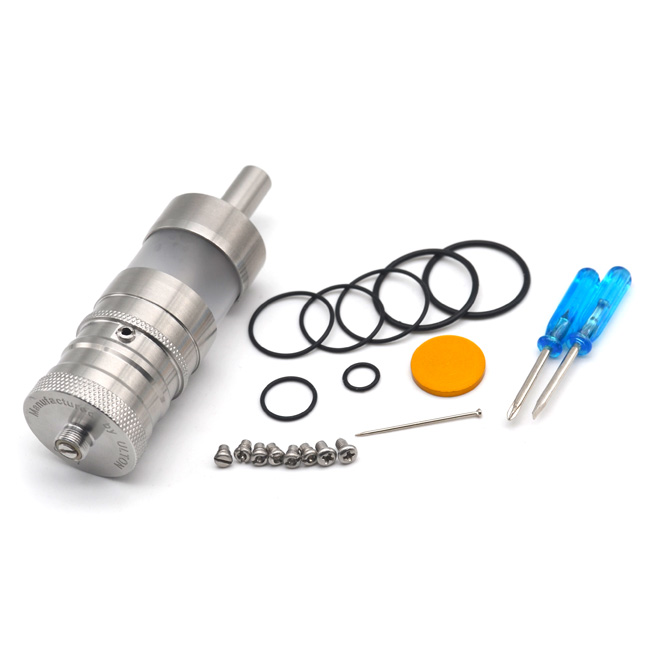 Parameter
Authentic ULTON Fev V5 25mm MTL/ DL RTA Rebuildable Tank Atomizer Height 85.2mm(With drip tip)
Height 66mm(Without drip tip)
Diameter 25mm
Weight 113g
Package weight 136g

Features
510 threading;
25mm diameter;
7-8ml capacity;
2 post simple design;
MTL and DL options;
Dual AFC and Single AFC control (A solid screw is included for exchanging Single AFC from Dual AFC);
3 pairs of AFC screws + 1 solid AFC screw included for airflow control;
(Inner diameter: 1.2, 1.4, 2.1mm,, ±0.1mm tolerance);
Glass Tank

Package Included
1* ULTON Fev v5 25mm MTL/ DL RTA Rebuildable Tank Atomizer - Silver
1* Pack of O-rings
7* AFC Screws (One solid screw and one hole screw are installed on atomizer)
1* Needle
2* Screwdriver
1* Copper plate
2* Screws for post
No extra spare glass tank included in accessory bag
2Fdeal securely accepts the following payment methods
PayPal
PayPal deposit, Credit card, e-Check, Debit Card, and EFT (through PayPal)
SEPA, Giropay (please choose EUR currency in 2fdeal store before you choose this payment method)
For payment method except PayPal, you are required to reach to doris@2fdeal.com
Western Union

Shipping and Tracking
From China Warehouse

- Airmail
Airmail is not trackable, it is less secure compared with delicated express line or registered mail service.
Delivery Time​:​​​​​​ 10-35 business days

- Registered Airmail
Delivery Time​:​​​​​​ 8 - 25 business days
How to track the package: http://www.17track.net

- e-Packet Service
Apply to Canada, Russia.
Delivery Time: 8-16 busienss days for delivery.

- US Direct (Express Line)
Delivery Time: 5-9 Business Days for Delivery

- US Direct (Special Line)
Delivery Time: 9-16 Business Days for Delivery

- German/ UK/ France/Spainish/ Italian Express
Delivery Time: 6-14 business days on average
How to track the package: http://www.17track.net

- Mid European Express
Delivery Time: 6-14 business days on average
How to track the package: http://www.17track.net
(No customs issues for customers)

Worldwide Express Shipping (DHL, EMS)
Required extra shipping fee depends on the weight paid by customers.
Duty for express shipping generated by local customs is paid by customers. Please make sure that you are capable of clearance before choosing this shipping method.
Delivery Time: Within 1 week
How to track the package: http://www.dhl.com http://www.ems.com.cn
Consult: support@2fdeal.com

From German Warehouse
Items with "Ships from Germany" or "Versand aus Deutschland" will be shipped from Germany Warehouse
(https://www.2fdeal.com/c/german-warehouse_0379)
- Local DPD $4.5 (2-7 business days)
- Local DHL $5.5 (1-5 business days)

From Hong Kong Warehouse
Items with "Ships from HK" will be shipped from HongKong Warehouse
- UK/ Germany/ France/ Spain/ Italy Express $3 (5-14 business days)
- Registered Mail $5 (7-15 business days)