Description

Payment and Shipping
Kind note before ordering:
This SKU comes with both DE BE WE decks and MTL screws in a bundle.
First 100pcs: $33.5
Price is raised to $36.99 after the first 100pcs sold.
First batch is shipped on August 12th
Second batch was shipped on August 22nd
All is ready for 24 hours shipping since August 22nd.
Free German Express for order amount over $35.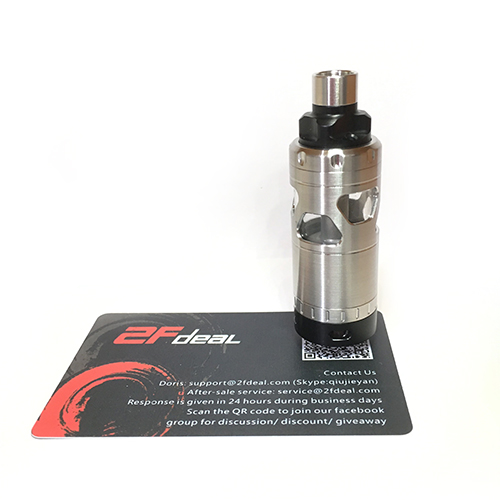 316SS Style Rebuildable Tank 4.5ml Bonus Version - Silver

Parameter
Capacity 4.5ml
Diameter 22mm
Weight 60g
Height without drip tip 63.9mm
Height with drip tip 70.3mm

Features
Engraved logo
Top-fill three position top cap "Fill", "Vape", "Closed"
Very easy coil mounting and wick placement
Fill the tank without removing any parts from the atomiser
The tank can be completely closed and removed (even when full)
Adjustable air flow ring
4mm maximum air flow
Single or dual coil with interchangeable decks (other decks available separately)
Adjustable gold plated 510 connection
Replaceable borosilicate glass
Deck is accessible even with full tank
Non-conductive components inside the chamber (deck and chimney)
Gold plated 510 contact
316L Stainless steel with anodised aluminium accents

Package Included
1* Emotion 316SS Style Rebuildable Tank 4.5ml Bonus Version - Silver (Which included the BE and DE decks)
1* MTL screws
1* Pack of Accessories
2Fdeal securely accepts the following payment methods:
PayPal
Moneygram
Western Union
e-Check, Debit Card, and EFT (through PayPal)
For payment method except PayPal, you are required to reach to support@2fdeal.com

Shipping and Tracking
From China Warehouse: Free Shipping

- Airmail and registered Airmail
Generally, 2fdeal.com ships goods via Registered Airmail.
If your order amount is less than $20, the code provided is not for tracing, it is not traceable.
Delivery Time​:​​​​​​10-35 business days
If the order amount is over $20, 2FDEAL.com will offer the tracking number for free. Otherwise, $2 required.
Delivery Time​:​​​​​​8-18 business days
How to track the package: http://www.17track.net

- e-Packet Service
Apply to United States and Austria.
8-16 busienss days for delivery. Free e-packet service for order amount larger than $20.
Order less than $20 without paying tracking number would be shipped by Lao airmail service.
- German/ UK/ France Express
For order ≥$35 Free
For order ≤$35 $3 required
Delivery Time: 6-14 business days on average
How to track the package: http://www.aftership.com


Express shipping (DHL, EMS)
Required extra shipping fee depends on the weight paid by customers.
Delivery Time: Within 1 week
How to track the package: http://www.dhl.com
http://www.ems.com.cn
Consult: support@2fdeal.com